Radon Air Mitigation Systems
The common and most economical approach to mitigate higher radon in air levels in a home is by using an Active Soil Depressurization (ASD) process. Black Dog Inspections d.b.a. Black Dog Radon Services has been highly successful using this radon mitigation method over the past thirteen years. The ASD approach works on homes with basements as well as homes on a slab. The process involves creating a void under the lowest floor slab in the form of a suction pit which is used as a collection point to attract the radon gas before entry into the home living space. A PVC pipe generally 3" to 4" inside diameter originates from the suction pit to a fan which pulls the radon gas upward. The radon fan could be located outside the structure by running it through the band joist or side wall which ever fits the application best and the piping continues to the roof level to exhaust the gas properly. An internal pipe path can be used if the pipe can routed through the structure to an attic space above the livable area. The fan can then be placed in the attic with the pipe exiting through the roof similar to a plumbing soil pipe. Either radon reduction system method has advantages based on cost, accessibility or aesthetic value. There are standards to follow and we are AARST-NRPP certified in radon mitigation.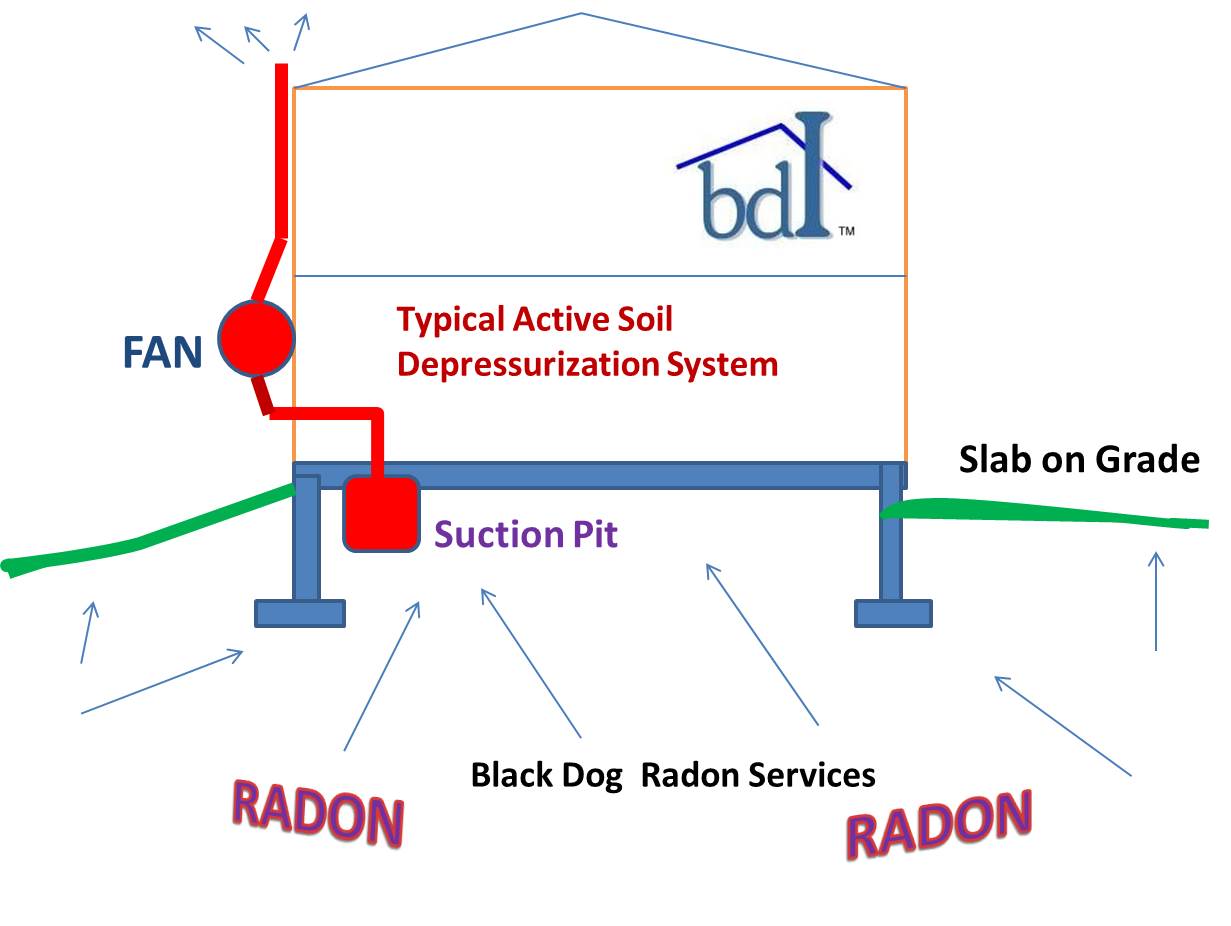 In cases where there is an open earth floor a membrane must cover the open earth and be attached to the walls. The same procedure is followed by pulling air from beneath the membrane.
Although the ASD radon mitigation system practice seems relatively simple, there are advanced methods that can be used to determine the best location to place the suction point(s). Black Dog Radon Services performs a pressure field extension test and simple air flow test to insure that the radon remediation system will work as designed before it is installed. In some cases additional suction points, a larger suction or larger volume fan may be required for proper radon reduction levels operation in all weather conditions. Occasionally we run into difficult situations where short radon tests (6 minute grab samples or sniffs) are made to determine the best location to lower the radon levels in the structure. The radon diagnostic process is a bit time consuming but our goal is to provide our customers with the best radon mitigation system done right once rather than the" poke and hope" method used by some inexperienced or short cut radon contractors that may result in with multiple call backs to correct the home radon levels. We don't want to be that bump in the ro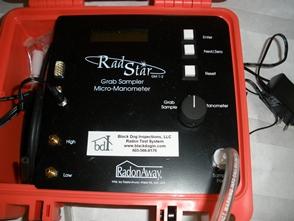 ad when a real estate transaction is the driver for acceptable reduced radon levels.
Radon Grab Sampler